Doctor & Staff
Meet the experienced and friendly doctor and staff who make Northwest Optometry the leading provider of vision care products and services in Sparta.
---
Dr. Anne Pfeffer -Einig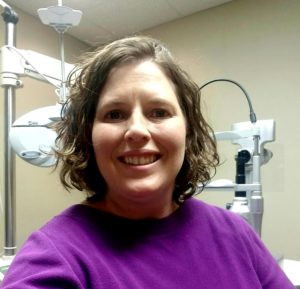 Dr. Anne Pfeffer -Einig has owned Northwest Optometry since January 2010.  She lives in Sparta with her husband Doug and their 2 children Isaac and Jillian.  Dr. Anne was born and raised in Adrian, MI but has family connections in the area and remembers visiting Sparta as a little girl!  She attended Western Michigan University  with a major in Biomedical Sciences before being accepted and completing her education at Indiana University with her Doctor of Optometry Degree.  Dr Anne is an active member of Holy Family Catholic Church in Sparta, a member of Sparta Lions Club, and has served on multiple community boards, working behind the scenes in many community projects and events.
---
Staff
Our hardworking staff has over 55 years (Yes! 55!) of optical experience!  Our staff prides themselves in the level of care that we provide with our wealth of experience and continued willingness to improve and learn new things as advancements in eye health continue to change.  It's a true team effort!